A Bold New Experience in Forgiveness
Her mother was shot. Her father jailed. Then he married her aunt. This is Brenda's true tale of forgiving the unforgivable.
My Brooklyn Hamlet is Brenda's acclaimed one-woman show about family, murder, love, betrayal and the awesome power of forgiveness.
In 1995 Adelman's mother was shot and killed by her father and within months he married her aunt.
This is a story about love and hate, passion and numbness and how to find joy after you've lost everything.
You'll laugh, you'll cry, you'll surrenda ta Brenda the red hot contenda.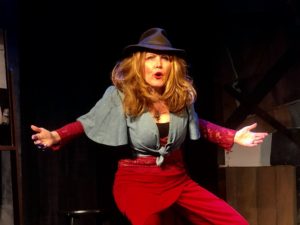 The Jewish Chronicle Interview with Brenda Adelman
A sampling of audio interviews here!  (Including NPR)
https://forgivenessandfreedom.com/media-audio-interviews
More TV and print interviews on the Media page on this site.
I absolutely LOVED your presentation!!! What a treat to blend the topic, this field, and the arts (I love the arts!! That was so unexpected!) – an excellent end to the week. And thank you for sharing such intimate pieces of your life. I'm truly honored! Wanted to tell you in person, but people were keeping you pretty busy!!
I look forward to your teleclass. I certainly have areas in my life where I need to start forgiving.
"We were taken to the edge of human existence…Brenda Adelman's My Brooklyn Hamlet, relived her mother's murder by her father (who then married the victim's sister), a drama that created a classical Greek catharsis in a modern Brooklyn setting."
"Brenda Adelman has the rare combination of having been profoundly wounded by life, having a willingness to bring her wounding into the public eye with great love and immense humor, and being an extraordinary talent. Her show captures the audience from the moment she steps onto the stage and she holds our attention throughout. Finally, and most significantly, the show is an experience in healing for all who attend. In my opinion, as a spiritual teacher who spent years encarcerated and living the dark side in my earlier life, nothing impacts us more than to actually see someone who has returned from the darkness with a message of redemption. Such is the case of Brenda Adelman and her phenomenal show, My Brooklyn Hamlet."
"Brenda,
More than a week has passed since your visit to Manhattanville College and our students are still praising your moving and powerful performance and the workshop following. Among the gifts you offer are honesty, courage, genuine emotion without sentimentality and a humane and welcome sense of possibility and regeneration. I was particularly struck by the openness, coherence and compassion of the workshop, how suddenly and surely forgiveness and the desire to forgive arose in the room-clearly the therapeutic model is close to your heart. So on behalf of the students and faculty of the Department of Dance & Theatre and those from the Duchesne Center, our deepest thanks and appreciation. Please keep in touch and let us know when you are next in the east.
All good wishes and success.
Kol tuv."
Thank you for gracing Unity Spiritual Life Center with your amazing performance. You are truly a talented performer. I feel that the full house and standing ovation did not truly reflect what moved through me by your performance. I felt the need to tell you how much I appreciate what you brought forth in motion and emotion.
What a beautiful experience to watch your life story and watch your transformation unfold. I laughed and cried as you walked through pain staking elements of your life moving around you and in you… as well as the many characters and emotions you portrayed creating a vision of life's illusion. The trailer you have on your web-site is only the tip of the iceburg. Hidden beneath the costumes, voices and music you create a gift of Love and learning. Then seeing that the true gift is the gift of you. Freedom to be!
This creative expression is more than a practice of self expression. By opening yourself and allowing Spirit to guide you through this place of darkness to a place of Love and light, the engagement of forgiveness radiates the true essence of who you are. Love in Action. You are a blessing — sharing your gift with the world showing the way to others along your path.
Continue to heal. Continue to practice. Continue to manifest all things possible… and continue to dance. Continue to be the vessel of the breath of life in the flow of divine creation. Continue to be the gift. Keep sharing the identity of who you are AS you are in oneness and in love.
Many blessings,
"I saw Brenda Adelman's performance in September of 2006, while attending the annual conference of the Arizona Coalition Against Domestic Violence.
Having worked as a domestic violence advocate and therapist for 15 years, I thought I understood the emotional experience of survivors, children, and offenders quite well. Yet, as I watched Brenda's life unfold before my eyes, I came to a humbling conclusion:
I did not understand how survivors, including myself, could still love, still trust, still forgive, after all the pain our abusive partners or parents caused.
That is, not until she spoke to her father, "I hate you, I love you."
For in that moment, I realized how unforgiving and resentful I had been toward those in my life and in my field who caused me harm, or inadvertently revictimized those clients with whom I identified.
I had thought I was cured, when in reality, I was holding onto hatred, and denying my love.
Brenda Adelman's moving performance opened the door to my own further healing. She is an amazing woman, with courage, strength, and above all compassion. She normalized the experience of my being a survivor, and made it okay to feel again.
Though it was over a year ago that I witnessed her performance, it inspires me to this day. Now, I am able to find and restore the sweet souls beneath the scars of indignity that she has forever opened my eyes to see."
With Infinite Gratitude,
"What intrigued me the most about Brenda's show, aside from her dramatic childhood experiences, is her ability to make the essence of Shakespeare for the first time accessible to me.
Her talent to relate and intertwine tangible, emotionally understandable scenes of her life to and with Shakespeare is ingenious.
It allowed me to equate that emotion evoked by her scene to each selected Shakespeare scenes, which gave me for the first time a "feeling access" to Shakespeare, which I consider a much more personal and lasting experience that merely observed by the mind. – Thank you, Brenda."
Excerpts from performance at The Jewish Theatre of Austria 2007
"I met Brenda earlier this year and was instantly drawn to the energy she possessed. Warm, calm, inviting, grounded, honest, strong, deep, free…these are all words that simultaneously flood my mind when I think of how to describe her. As a lover of theatre, I was compelled to see her perform her life story onstage. Brenda's journey is one of wisdom, courage, and blatant honesty-both refreshing and undeniably intriguing. It was my experience after watching My Brooklyn Hamlet, that I was forced to examine myself and look inward to find the fractured and unsettled relationships in my life. This search, while not easy, instantly began to heal the wounds I hid from myself and solutions that would allow for closure immediately began to bubble up from within. This demonstrated to me, firsthand, how powerful forgiveness is. I am honored that Brenda allowed me to assist her in bringing My Brooklyn Hamlet to the stage in a new way and hope that the experience you have with her tonight touches you and your life story in an unexpected way."
"Brenda,
Wow….you are fabulous! My tears are dripping on the desk from just the two minutes. I look forward to seeing your entire show someday soon…in person."
XO
"Hey Brenda! I'm so sorry I wasn't able to stick around for the Q&A after your show tonight and give you a giant hug!!! You were amazing! What an incredible experience to share, you took us on a magnificent journey tonight…it stirred me on many levels (including making me sad I won't be
acting for a while). Anyways, truly fabulous job. This show should be playing to packed houses regularly. Thank you for having the courage to bring this story to life! Stay in touch with how things progress!"
Much love,
"Your play was amazing!!! Seems like all of us has a life time of work to do!"
I highly recommend Brenda Adelman's one woman show "My Brooklyn Hamlet." Not only is she a very talented performer, but she is a great healer as well. Through a deeply tragic event in her own life Brenda compassionately brings us to the power of forgiveness. She is witty, sensitive, insightful and totally open to the movement within her own soul. For several days afterward I was pondering my own inner process around betrayal and forgiveness. You will laugh, you may cry and you will certainly gain a deep experience of the power of forgiveness in your own life. See the show!!! Rev Kevin Bucy Universal Spirit Center See  3858 Front Street San Diego, CA 92103 619-291-4728 www.universalspiritcenter.org
YOU were and are phenomenal! It was a real honor to see your show. What a gift you are to this planet. Thank you!!!
as a PS…. I loved so much your mother and your father (and your brother and you). That is a testiment to how much you have healed this. I was able to understand and be in the shoes of each of you, and love you all in spite of limited or harmful attitudes/behaviors/actions.
PSS – you are an amazing actress!!!
Publish this. It is a healing gift for humanity (for the soul) with lots of entertainment value (for the ego)
So glad I was able to be there for your incredible performance of your heartfelt show! So many emotions, as in life. Your ultimate conclusion is in alignment w/my own personal life philosophy; but to see that you have embraced that in the face of SO much is truly inspirational!
Brenda's Speaking and Performance History
Theatres/Festivals/Cultural Centers/Jail:
The Leeds International Performing Arts Festival (Leeds, England)

The New End Theatre (London, England)

The Jewish Ensemble Theatre (West Bloomfield, MI)

Best of the Fest fundraiser for the 21st annual Los Angeles Women's Theatre Festival (Fremont Centre Theatre, Pasadena)

The Marsh, San Francisco

The 1st & 2nd annual San Diego Fringe Festival (Top 5 Shows to See)

The Orlando International Fringe Festival (Critics Pick: Nominated for Best Actress award)

Bang Comedy Theatre (Los Angeles, CA)

The Aurora Theatre (Long Beach, CA) Divas in Danger

Lamplighters Theatre (San Diego, CA)

Celebration Theatre (Los Angeles, CA)

Canyon Moon Theatre (Sedona, AZ)

Actors Art Theatre (Los Angeles, CA)

Theatrikos Theatre (Flagstaff, AZ)

Philip Cotloff Center (NYC, NY)

Red Tent Womens Project (Brooklyn, NY)

Dr. S. Steven Dweck Center for Contemporary Culture at The Brooklyn Public Library (Comedies and Tragedies Festival)

The 11th Annual Los Angeles Womens Theatre Festival

Until The Violence Stops: NYC festival

V-Day Sedona

Repair the World-an International Jewish Theatre Festival (Vienna, Austria)

Pulse Ensemble Theatre (NYC, NY)

LATC (Los Angeles, CA)

Huntington Beach Art and Cultural Center (Divas in Danger)

Simi Valley Cultural Center (Divas in Danger)

Lynwood Jail for Women (Los Angeles, CA)

Aux Dog Theatre Nob Hill (Albuquerque, NM)
Schools and Youth:
University of Hawaii

The University of Santa Monica

Manhattanville College (Purchase NY)

Verde Valley School (Sedona, AZ)

Red Rock High School (Sedona, AZ)

Campbell HS (Ewa, HI)

Communities in Schools (Wiapahu, HI) ages 8-15
Spiritual Communities
Center for Spiritual Living – (La Crescenta, CA)

Universal Spirit Center (San Diego)

Unity Church (Phoenix,Sedona, Flagstaff, AZ; Oklahoma City, OK; Oahu, Hawaii)

Church of Religious Science (Flagstaff, AZ, North Hollywood, CA)

Jewish Community Center of the Verde Valley (Sedona, AZ)

Seicho No Iea (Maui and Oahu, HI)

Temple Chai/ Congregation Beth Israel (Scottsdale, AZ) S'lichot Service
Associations:
Association for Jewish Theatre

Jewish Women International (Phoenix, AZ)

International Hawaii Forgiveness Project

The United States Air Force
Conferences:
Celebrating the Divine Feminine (Sedona, AZ) Stellar Productions

Secrets of Activating Your Personal Power, (Panelist alongside Dr. Michael Beckwith)

The Gift of Shift

Women's Journey Conference (Long Beach Convention Center) Divas in Danger

Healthy Living: Aging with Grace (Scottsdale, AZ)
DIVAS IN DANGER-  ESCAPE, BETRAYAL AND BUDGET PLASTIC SURGERY
These are three 35 minute shows. (35 minute version of My Brooklyn Hamlet)

Actress/Author DEBRA EHRHARDT knows Jamaica Farewell is more than a song. With the unwitting help of a CIA Agent, she risked her life escaping her home in Jamaica during a violent revolution to fulfill her life long dream of coming to America.
Actress/Author BRENDA ADELMAN'S mother was shot and killed by her father and then her father quickly took a new bride, her aunt. (her mother's sister). Brenda's one-woman show My Brooklyn Hamlet is about the power of forgiving the unforgivable.
On a less dramatic scale, although equally shocking, author/storyteller MARIANA WILLIAMS undergoes budget plastic surgery with a doctor practicing out of his suburban home in Park City, Utah.
The Aurora Theatre in Long Beach: 2018
Huntington Beach Arts Center
Rail Yard Performing Arts Center: Santa Fe, New Mexico
Harwood Museum: Taos, New Mexico
Aux Dog Theatre Nob Hill: Albuquerque, New Mexico 2019
Torrance Arts and Cultural Centr

In-Person Workshops with Brenda Adelman:
Forgiving the Unforgivable: The Path to Freedom

Creating a One-Person Show

Healing Through Life Stories
Teleclasses and Webinars:
Forgiving the Unforgivable

Setting Healthy Boundaries in Love and Life

The 3 Steps to Forgive and Finally Be Free

Polish and Package Your Life Story and Your Talent

The Confident Storyteller
Domestic Violence Community Clients: (Keynote presenter, speaker, trainer)
The Verde Valley Sanctuary

AZ Coalition against Domestic Violence

NM Coalition against Domestic Violence

Healthy Families Training (Phoenix, AZ)

The Coconino Coalition for Child Advocacy (Flagstaff, AZ)

Prevent Child Abuse (AZ)

The Children's Aid Society (NYC, NY)

Time-Out Shelter (Payson, AZ)
Awards:
Recipient of 2008 Hero of Forgiveness award by The Hawaii International Forgiveness Project

Best Actress Award 2007 at The Zaki Gordan Film Festival for 'Daddy's Girl'
Training:
Acting:
The Riverside Shakespeare Company (NYC, NY)

The Atlantic Theatre Company (NYC, NY)

The London Academy of Music and Dramatic Art

The Beverly Hills Playhouse

Sal Romeo

Larry Moss Studios (Michelle Danner, Improv workout, On-Camera Technique)
Voice :
Dance:
Improv/ Stand-up:
Acting Experience:
theatre

film

stand-up

improvisation troupe (Laugh on the Rocks)

One-woman show

commercials

print model
Other training/ experience:
MA in Spiritual Psychology, assistant for  3 years, reader for 1 year

Prayer Chaplain for Unity Church, Board member Unity and Universal Spirit Center, volunteer with youth ministry

Boys and Girls Club: volunteer, Cedar's Sinai: volunteer in pediatrics

Guest on dozens of podcasts

Expert on Storytelling, Forgiveness and the Art of the One-Person Show (panels and for online programs)