"I highly recommend Brenda Adelman as a coach, actress, director, and facilitator. Brenda is the "real deal" as she's the most authentic, courageous, compassionate and creative professional I have been blessed to work with.
For the last few years I have been directed and coached by Brenda both in person and online through her Healing through Story Showcase and also with her Soul Story Lounge. Not only have my skills as a storyteller and writer dramatically improved; this work has offered breakthroughs which led me to have more understanding and compassion for challenging people and situations in my past. By learning to forgive others and myself at a deeper level, I have moved beyond some significant past grievances which freed me up.
This past year, 2022, I hired Brenda as my Coach. In this role she has been my cheerleader, confidante, "the one who holds my feet to the fire" (she does this well), and at times, she has believed in me more than I have– a true encourager. Some of the projects she has helped me with include: identifying work situations which no longer support me and letting them go; helping me update my acting resume and align with a paid, ongoing acting opportunity; land postcasts and other interviews and then have the confidence to show up and perform well; become more adept at making videos; stay on task with my projects and become more honest with myself including tracking my time and noticing my energy with different people, places, and situations, to choose what meets my highest good.
Finally, I encourage you to check out Brenda's Soul Story Lounge. Brenda is extremely active within the group offering many uplifting and unique programs/trainings to improve our creative skills as Storytellers and connect us with one another. She offers Masterminds generally two times a month. Receiving Brenda's coaching, along with support from other members, has been so valuable. What I've appreciated most is being a part of an inspiring group which feels like "family and tribe" – a place where I get to be myself, feel understood, and connect with beautiful human beings." Suzan
"I am interested in the idea of grief and loss as powerful creative forces that should not be shied away from. Your show exemplifies and embodies this concept in such a palpable way. I was captivated by your performance and your insistence on delving deeply into your experience."
Michelle Moskowitz Brown
Director of Operations
The National Foundation for Jewish Culture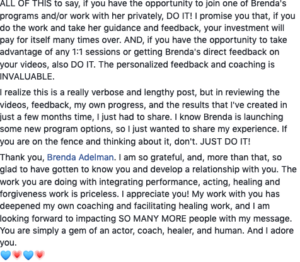 Testimonials
*********************************************************
I highly recommend Brenda Adelman as a coach and facilitator, after being in her Soul Story Lounge for the past 9 months.
Brenda is a tireless cheerleader for everyone who crosses her path. She provides various opportunities for people to learn, observe, and speak through different platforms.
She is authentic, intuitive, and creative, both in her own work as an actor and in coaching clients.
What's different about Brenda is that she incorporates life-changing approaches to personal challenges, such as forgiveness and healing.
During the Covid pandemic, I shut down and felt so isolated and alone.
When I was introduced to Brenda, I was drawn to her work because it was stimulating and inclusive.
Although I had been working online using Zoom for 2 years, I had no appetite left for performing online. In order to adjust to the platform, I benefited from her example and coaching. Previously, I couldn't imagine effectively communicating in a virtual setting.
Brenda showed me how to make friends with the camera and use different techniques to create an "audience."
Due to her expertise, she points out things that I never would have thought of.
I really enjoy being in Brenda's Soul Story Lounge because there are so many opportunities to learn and interact with other like-minded souls.
The goal we share is to touch others by telling our stories. What's amazing is that we ourselves heal during that process.
The Lounge is a place where we can play and practice our stories while being coached and supported.  Jan Lenhart
Each time I include Brenda Adelman's play in one of our conferences I receive letters of gratitude, and praise …. From a place of vulnerability and trust Brenda performs her life story with clarity and strength. The play truly paints a poignant picture of triumph over tragedy. One can't help but be coaxed from those fearful places into a place where forgiveness is the answer to redemption and love the anchor that sustains an open heart.
Karen Koebnick Stellar Productions Sedona AZ.
Stellar Productions
Transformational Events, Journeys & Conferences
www.stellarproductionslive.com
*********************************************************
Dearest Brenda,
I just want to say, how impressed I was at your performance. You are the most electrifying person, on stage, that I have ever seen!
Your play was very compelling and it brought up a lot of issues in "my" life, that I thought I had dealt with. I thank you for that, because, I AM dealing with them now!
I hope we can stay in touch, because, I will get you into some schools, yet! I promise you that! Kids need to see this and learn about forgiveness and releasing things that will burden them later in life!
You are an inspiration, my dear and you need to be heard.
I wish you well in life and hope all good things come to pass. You deserve it my dear.
Warmest regards and Blessings,
Paula Khriste
**********************************************************
"My Brooklyn Hamlet" brilliantly explores the complexity of emotional experiences and dynamics of living within the shadow of family violence. In her brave autobiographical play, Brenda Adelman masterfully intertwines humor and gravity, bringing to light the experience of moving from tragedy to forgiveness. As a therapist, I have personally recommended this show to clients because of the power it has to help heal and transform. For anyone who has ever felt alone in their experience of surviving trauma or toxic family relationships, this play can validate and affirm one's experience of survival and offer the possibility of hope through forgiveness. Brenda herself is a true inspiration as one witnesses through the play her struggle to come to terms with her family trauma and sees Brenda today as an authentic, charismatic, compassionate woman who is clearly dedicated to helping others on their path to healing. "
"I so believe in the work that you do and the ability of your play to help people to heal."
April Ely
LCSW, Child Counselor
She played to hushed and mesmerized audiences in
Vienna"
Robin Hirsch-performer of 'Mosiac: Fragments of a
Jewish Life'
Two thumbs up to a spectacular show, Brenda Adelman!!!
So glad I went. The Brooklyn Hamlet was funny, witty, moving…an
emotional roller coaster with so much learning. You're so talented,
Brenda…thanks for sharing your gift to the world 🙂 Trissa Tismal
Tracy Suttles
Bren!
We loved your show so much. We were pulled right in with ease and grace
and experienced so much love for you & all your parts, lol! U R so
inspiring! Xox-So glad you came Tracy!
Thanks for being such an inspiration of peace and forgiveness in this world. You are amazing!
Love and Light,
Kathleen
Maui
Massage Salon owner
Brenda,
I had a very rich experience at your show last nite. Congratulations for creating this big slice of your life, in a way that everyone can relate to.
Your talent, gumption, bravery, beauty and inspiration was something to watch. I've been wanting to see Hamlet for years and it was terrific.
I wish you luck and success for it's ongoing future presentations.
Francine
I appreciate YOU, Brenda!
YOU and the workshop you facilitated at Unity fo Sedona led me to USM!
  I am so an admirer of you and your work!  From my point of view, you are one of the people I know who so "walk your talk"!  I so believe, and continue to have the life experience, that forgiveness is the key to being the final piece of healing in any area of my life!  You model this along with "there are no skipping steps" to forgiveness….it is hard work and commitment to self!
Sending you much Love and Light this holiday season.  Look forward to connecting with you in 2011!
Marigrace
"I've had an Alice Cooper vs. Dairy Princess story living inside me for 40 years. With Divine Timing, I found Brenda Adelman online.
Who would have guessed a Brooklyn gal could be so helpful to a Minnesota farmer's daughter? But she did!
Brenda coached me in tightening up my story and directed me so I could tell it in the most memorable way possible.
In 2 months, I went from an idea in my head to acting my story out on stage in front of a live audience. (who loved it : )
If you have a story in you that wants to be shared I highly recommend Brenda Adelman She's got years of experience and she'll freely share her expertise with you.
But more importantly she deeply cares about her clients and is dedicated to you getting your voice out there in a fun and powerful way."
Pamela Ziemann "If I Were Me…I'd Know What I Want" A One-Woman Show Developed and Directed by Brenda Adelman (Pamela has performed her show across the United States and in Canada. She just performed again this week)